Are you thinking of going on a holiday in the Caribbean? Call on Caribbean Charter Flights and let us help you get the finest charter flights to La Romana, one of the top tourism spots in the Dominican Republic.
Our longstanding reputation in flying satisfied customers will surely gain your confidence and trust, as we provide you a charter flight experience so good you would definitely want to fly with us again. Dedicated to giving our customers only the best, we follow very strict requirements and guidelines with regard to taking in operators, pilots and crewmembers to be part of our company. All our personnel are experts in flying and customer service, so you are sure that you are in good hands.
Our flight crew will be at your beck and call, making sure that everything is run according to your preferences. From providing you customized service tailor-fit to your requirements to making airport security and immigration checks easier and faster, you can count on us to deliver.
When you sign up with Caribbean Charter Flights, you say yes to a totally stress-free flying experience. You will have none of the usual worries associated with flying commercially, such as missed flights, conflicting schedules and lost baggage. We fly on your schedule, on the jet charter of your choice and the amenities and services you yourself have picked.
Why La Romana?
Choosing to visit La Romana for your next holiday is probably one of the best decisions you would have made in your life. The seventh largest city in the Dominican Republic, La Romana is home to majestic beaches with clear and sparkling turquoise waters. Swim to your heart's content in these warm Caribbean waters or go shipwreck diving or reef snorkeling. La Romana'sbeaches are beautiful beyond belief, but they are not all there is to this wonderful Dominican Republic city. You can also visit Altos de Chavon, the city's biggest attraction and get transported to a Mediterranean village set during the medieval times. You can also choose to play golf at Casa de Campo, drive a 4×4 dune buggy or go on a jeep safari in the Dominican countryside, learn the art of cigar-making in the Tabacalera de Garcia cigar factory, dance with the locals in Bayahibe or watch the Toros del Este amaze the local crowd with their baseball skills. No matter what your idea of fun is, La Romana surely has something for you.
Get a charter flight to La Romana and have an amazing holiday you will never forget. Get your personal quote by filling out the form on this page with your flight details.
PRIVATE JET AIRPORTS in La Romana Flights
La Romana International Airport (LRM)
Owned by the city of La Romana and operated by the Center Romana Corporation, La Romana International Airport functions as a gateway for most tourists entering the Dominican Republic as it has road access to most major tourist destinations in the republic like Casa de Campo, Uvero Alto, Boca Chica, Macao and more.
The airport has two runways, one of which is dedicated solely for domestic and international general aviation aircraft. It provides information about the weather, catering, passenger handling, and aircraft fueling and rescue services. The airstrip also features various gift shops, eateries and cafés for passengers.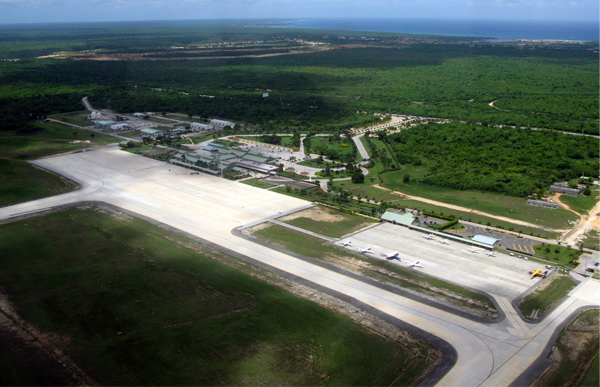 HOW MUCH DOES IT COST TO FLY La Romana Flights BY PRIVATE JET
New York – La Romana
Aircraft Type:
Passengers:
Flight Time:
Price starting at:
Contact at +1 (844) 900-0747 or info@caribbean-charter-flights.com to book private flights to La Romana Flights
Miami – La Romana
Aircraft Type:
Passengers:
Flight Time:
Price starting at:
Contact at +1 (844) 900-0747 or info@caribbean-charter-flights.com to book private flights to La Romana Flights