Mustique is a small and tranquil Caribbean island that does not have a big airport – thus leaving the island out of reach of commercial flights. This is in fact good news, as when you fly from Barbados to Mustique with us you'll be able to enjoy sceneries that you otherwise wouldn't be able to.
Our small charter aircraft will allow for a unique experience during your flight from Barbados, enabling you to start your vacation as soon as you step on-board one of our modern aircraft.
By far the easiest, safest and most fun way to get to Mustique is by either 1) a private charter flight from Barbados (which this article will focus on); or 2) a flight from St. Lucia (click here for more specific information for flights from St. Lucia) – depending on which of the two islands your chosen commercial flight lands on.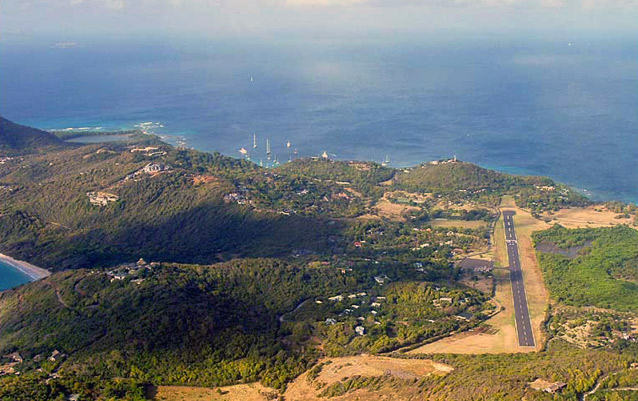 Flights From Barbados to Mustique
Private charter flights from Barbados to Mustique take an average of 34 minutes, during which you will be able to enjoy personalized catering and even pop a bottle of champagne, if so desired.
By flying charter with us you sign up for perks that commercial flights are not able to provide – notably, you will fly on your own schedule (not the airline's), without having to wait in long lines, in a personalized aircraft chosen to fit your individual needs, and in the company of only those passengers that you personally approve of to be on board.
The customized nature of every flight to Mustique that we operate makes our charter flights your premier transportation choice in the Caribbean, while the continuous help of our expert travel staff during your trip will guarantee you have the brightest start to your exotic holiday of a lifetime.
Flying to Mustique
Mustique is one of our favourite Caribbean locations, and one of our featured destinations that we are proud to operate flights to. It is a top romantic location, making it perfect for your honeymoon or vacation with your loved one due to its beautiful Caribbean sunsets and plentiful secluded beaches accessible on the island.
A paradise of fun and relaxation, plenty of activities await for you on the island – among which Caribbean sailing (around the Grenadines) and Caribbean recreational fishing (for relaxation), but with a wide range of Caribbean water sports for during the day plus nightlife locations or Caribbean-style bars as well for during the night (if fun is what you seek).
Being one of our favourite Caribbean islands, we wrote extensively about Mustique before – and you can read more about it either by clicking the links above, or by visiting our blog and checking out our recent articles.
Flight Reviews: Barbados to Mustique
We regularly operate flights from Barbados to Mustique, and we always go above and beyond to make sure tourists who fly with us are happy with the premier service provided. Below are some of our previous client reviews.
You can check out these testimonials (and others) in full on the reviews page for our flights to Mustique. We look forward to welcoming your own reviews on this page in the future!
Book Flights to Mustique
For a quick personalized quote that is specific to your individual flight, timetable, and personal needs, please go to our quick quote page here. There you can either leave us your desired flight details and we can get back to you with your quote, or you can simply send us your phone number so we can call you back at a suitable time.
Additionally, if you're already decided on your destination and have booked a commercial flight to either Barbados or St. Lucia, you can book your flight from there to Mustique with us today by filling in this booking form.
For any other questions, or if you'd simply like some expert travel advice for your vacation, please feel free to write us a message or give us a call – we always respond promptly! We're looking forward to welcoming you on-board one of our flights to Mustique soon!
Image sources: Soul of America, Vintage Magazine, Private Villas