The easiest way to reach the small island paradise of Mustique is by a charter flight from St. Lucia, since there is no big airport at the destination (which makes landing a commercial flight impossible).
Your flight from anywhere in the world will first have to land on either St. Lucia (which this page will focus on) or Barbados (click here to learn more about flights from Barbados to Mustique). Once you land on one of these two bigger islands, your charter flight staff will await and welcome you.
Our charter flights from St. Lucia to Mustique represent one of the quickest, safest, and most fun ways to travel to and from your Caribbean destination, and we will go in more detail in this article.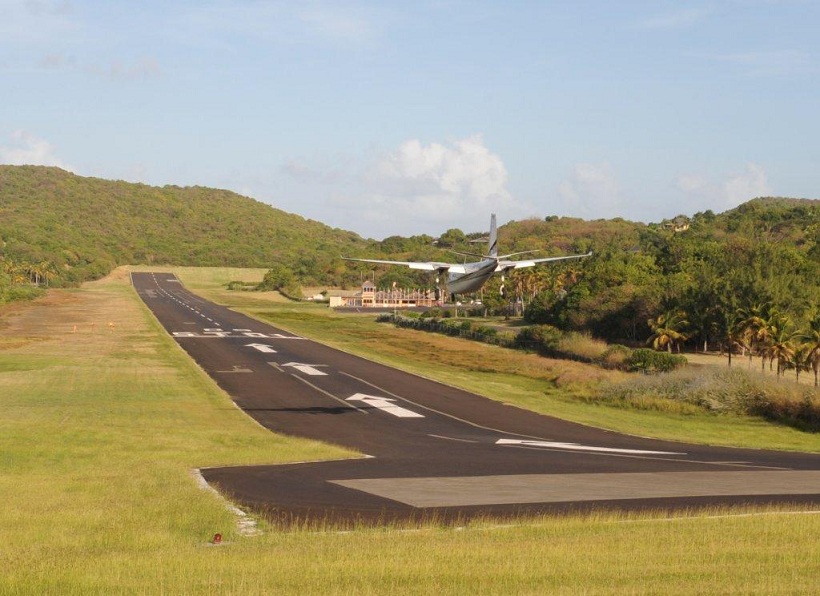 Flights From St. Lucia to Mustique

A charter flight from St. Lucia to Mustique will take, on average, 25 minutes – depending on the aircraft you choose and find most suitable depending on your individual trip needs.
Our experts will consult with you on this, making sure you have everything you need on board (such as personalized catering, or even a few bottles of Champagne if so desired).
When booking a Caribbean charter flight with us, you sign up for a range of advantages that commercial flights can't offer. You win freedom by flying on your own schedule (as opposed to the airline's), time by not having to wait in long lines to check-in and get your luggage checked, and comfort because you'll have the final word on who travels in the aircraft with you.
To no surprise charter flights have surged in popularity in recent years, being regarded by many as affordable luxury because of the unique experience that it can add to your vacation.
When you step on-board one of our charter flights, you essentially get to start your vacation early by laying back and enjoying the beautiful views and landscape that you'll be surrounded by during your stay.
For a quick yet complete guide on everything you need to know to fly smart in the Caribbean, we recommend you download your free copy of the Caribbean flying guide today!
Flying to Mustique

Mustique is one of our featured Caribbean destinations, and a great choice for an exotic vacation all year round. A real paradise for fun and relaxation the small island is well known for its romance, with secluded beaches such as Lagoon Bay (along with beautiful sunset views) setting the perfect scene for spending time far away from worldly problems with your dearest one.
While some seek tranquillity and relaxation during their holiday, others are looking for fun and socialization. For the latter Mustique has a host of attractions too – from beautiful beaches featuring a range of Caribbean sports you should try during the day, to exotic bars that will entertain you during the night. The island makes it virtually impossible for you to ever get bored.
Hiking is also a must-try in Mustique if you like wandering and exploration, the Salt Pond Trail never failing to surprise our tourists with the sheer amount of beautiful sceneries to see and places to discover for such a small island. Oh, and did we mention celebrity spotting?
We write all about Mustique (and more) on our blog, and we recommend you take a quick look at some of the articles that we linked above to start mind-mapping what you'll want to do once you land on the island. We hope you'll like what you see just as much as we do!
Flight Reviews: St. Lucia to Mustique

We're proud to be one of the few providers of flights from St. Lucia to the beautiful and tranquil Mustique. This is why we always go out of our way to make sure our clients are completely satisfied with our services – and this is reflected in our client testimonials below.
You can check out these testimonials in full (and more) on our Caribbean charter flight reviews page. We're looking forward to adding your own review to the list soon!
Booking Flights to Mustique

You can get a quick personalized quote for your flight from St. Lucia to Mustique on our quick quote page. There you'll be able to submit your desired flight details (and our staff will promptly get back to you with your individual quote), or you'll have the option to leave us your contact details so that we can call you back whenever best.
For any questions or queries regarding your Caribbean vacation, please feel free to ask our experts. We always respond promptly to messages, and would love to hear from you! See you soon on board one of our charter flights to Mustique!
Image sources: Tabhauser, Sailing Interlude