Choosing a Caribbean destination wedding Locations for your special day is an exciting and jubilant decision. With over 7000 island locations to choose from, it can also seem like an overwhelming task to choose the perfect place.
Understanding the importance of your wedding location, we have done the work and research for you. Immediately ruling out spots without proper infrastructure, hotel, and restaurant options, we easily narrowed down the options.
Further research on past bridal and wedding experiences allowed us to choose the top 3 Caribbean destination wedding locations for your consideration. Let's explore them together below!
1. Anguilla Caribbean Destination Wedding Locations

The most luxurious island option, Anguilla, is all about exclusivity and cultured seclusion. The island features upscale resorts, highly rated restaurants, and unspoiled scenery and beaches.
If you are dreaming of a private island paradise for your wedding, Anguilla should be your selection – as approved by the many celebrities who constantly choose it as their favourite exotic vacation spot.
Because high rises and cruise ships are not allowed, the island retains a tranquil and elite atmosphere of privacy. The low number of visitors means many beaches are almost empty, giving a private-island feel that sets an ideal setting for Caribbean hiking. The beach sand is clean and soft, and the seas are warm and inviting.
Any of the four star restaurants offer some of the best food in the Caribbean, and the more casual restaurants are worthy of raving as well. You, your future partner, and all of your guests are guaranteed to not forget Anguilla anytime soon.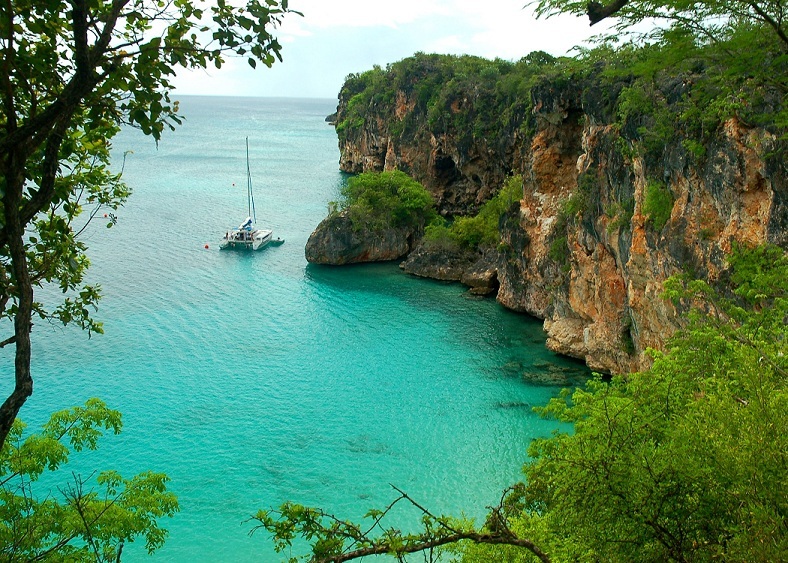 2. Virgin Gorda Caribbean Destination Wedding Locations

Virgin Gorda is the Caribbean destination wedding for brides seeking the unique. Blessed with unusual rock formations known as the Baths, the island offers countless rare photo opportunities and experiences.
The Baths of Virgin Gorda offer a once-in-a-lifetime swimming and snorkeling experience. The huge granite boulders are unforgettable and strangely beautiful, providing shallow pools to swim in and easily view fish.
The view from a kayak is particularly memorable – and we recommend dropping by some of these amazing Virgin Gorda bars too!
The island also has the usual Caribbean highlights, like white sand beaches, great resorts, and world class restaurants, so you miss nothing in favor of this unusual island.
3. Nevis

Nevis is, without a doubt, the best wedding location for nature-lovers in the Caribbean. The rainforests are lush and filled with wildlife, and the sea is teeming with huge schools of beautiful Caribbean snorkeling fish.
With the best preserved beaches and forests on land, along with amazing reefs underwater, you'll truly get a taste of the Caribbean wild side while here.
Nevis has a strong program for protecting and encouraging sea turtles hatching, a rare treat for any amateur conservationist or turtle lover.
If you crave a closer animal touch, horseback riding through the trails and beaches of the island is an easily arranged pastime – with especially romantic Caribbean sunsets.
If you're the adventurous type, the island is full of trails for Caribbean hiking and nature exploration with your soon-to-be-spouse. Nevis Peak, the tallest point on the island, can be hiked and sits at 3200 feet – offering amazing views.
Arriving to Your Caribbean Destination Wedding

The easiest and most luxurious way to arrive to your magical Caribbean destination wedding is flying charter.
We operate standard and VIP charter flights to all of the best Caribbean destinations, including the top Caribbean destination wedding locations mentioned above – and we are your premier and affordable choice for your travel needs as evidenced by our customer testimonials.
Plan your Caribbean destination wedding celebration with us and arrive in style. For any query you may have regarding your Caribbean wedding vacation, please feel free to contact our Caribbean travel experts at any time for a prompt reply. We will be happy to help!
Images sources and special thanks: HDWP, Photos Blog, BVI Dream Villa, OnetikkCaribbean Destination Wedding Locations