Whether you're a passionate foodie with a bucket list full of dishes to try, or just a regular beach lover who also happens to love good cuisine, the Caribbean has something for you!
Several islands have distinguished themselves over the years as international hotspots for foodies as a result of their unique mix of various cuisines, traditional dishes, and local influences – and the result? A plethora of foodie choices that you can scarcely find anywhere else in the world!
Without further ado, here are our 7 favorite Caribbean islands when it comes to food – along with our restaurant recommendations for each if you're looking for a unique foodie experience!
1. St. Barths Foodie

As one of the most favorite Caribbean islands among celebrities, St. Barths offers a wide selection of restaurants featuring plentiful mouth-watering dishes.
Perhaps the most widely enjoyed among our clients, and the St. Barths restaurant with the best online reviews for both its setting and its food, is the Le Tamarin restaurant in the Grande Saline area of the island. Fresh local cuisine served under a tamarind tree's shade will leave you craving for more. Le Tamarind is also our top pick for dinner, due to its unique setting in the evening.
2. Nevis Foodie

Nevis is a beautiful small island, a Caribbean favorite among those seeking peace and tranquility during their vacation. It is known for its breath-taking natural beauty, but the food here is nothing to neglect either!
A traveler-favorite restaurant on the island that we recommend you visit is called "Bananas." While the name may not sound serious, don't let it fool you! Bananas Bistro takes its food extremely seriously, providing a range of dishes from exotic cuisines such as Thailand, Morocco, or Greece, as well as a great selection of traditional dishes including the freshest and most delicious local seafood.
Providing an ideal combination of both amazing scenery and special flavor, we recommend you visit either for lunch while touring the island, or for a romantic dinner complemented by this sunset.
3. Barbados

One of the bigger islands on our list, Barbados is especially known for its amazing snorkeling – featuring plentiful coral reefs, shipwrecks, marine life, and other underwater wonders to explore!
Depending on where you're located on the island, there are plenty of foodie-friendly options here. That said, truly worthy of any bucket list is trying the island's specific "Bajan" (Barbadian) dishes – of which fish is usually a main ingredient.
We recommend you try flying fish at Champers (pictured below), fish sandwiches at Cuz's Fish Shack, fish cakes at the Waterfront Cafe, or fried fish with macaroni at Oistins Fish Fry.
Any foodie visiting will also be delighted by the locally famous waffles served at the Bliss Cafe, our favorite local place for breakfast.
4. Anguilla

We previously told you about our favorite Anguilla restaurants – all worthy of a visit. The stand-out on our list, however, has to be the Chef Nivk's Lionfish Ceviche at the Straw Hat. Why more fish on your Caribbean foodie bucket list? Because this one comes with a twist – it's venomous!
Lionfish has recently invaded Caribbean waters – but the good part is, it's edible, the meat tender, and it tastes delicious (sweet like a barracuda's) – not to mention the added thrill of eating a venomous species!
The sea view is also amazing, while the tranquil sound of crashing waves will ensure a great start to your day when having breakfast, as well as a relaxed ending to an adventurous day when having dinner.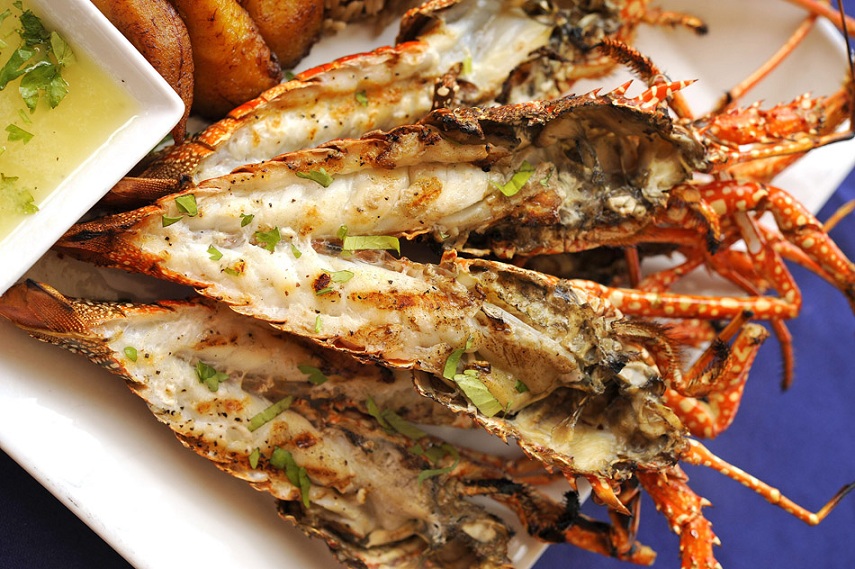 5. St. Maarten

St. Maarten is the self-proclaimed culinary capital of the Caribbean, and for good reason! The island is filled with excellent restaurants, most of the best of them located in Grand Case on the French side of the island. That said, however, there are great restaurants on the rest of the island too, and you should not limit yourself to solely this one area.
If we were to pick one single restaurant for our bucket list, it would be Le Santal (pictured below). This is an award-winning restaurant which has been consistently receiving praises for its dishes ever since 1976 when it opened. They serve amazing French cuisine, among which caviar, lobster bisque, Provencal prawns, creme brulee, and many other foodie goodies!
Oh, and did we mention the spectacular view? Just take a look at this picture!
6. Nassau, Bahamas

In the capital city of the Bahamas, topping our bucket list is the Dune restaurant located in the Ocean Club. Opened by internationally famous French chef Jean-Georges Vongerichten, the Dune is has an innovative menu on offer representing a fusion between Asian and French cuisines with local influences as well.
The dining experience here is guaranteed to be unique regardless of the time of day, and we highly recommend you try their famous burgers (photo below)! The James Bond martini should definitely be considered too!
As far as scenery, the Dune features one of the best outdoor settings on Nassau. We love it, and we're confident you will too!
7. Guadeloupe

The biggest island on our list, Guadeloupe is famous among tourists from around the world for serving some of the Caribbean's most delicious food. Hundreds of restaurants are available here, mostly specializing in French-Creole cuisine, as well as international dishes.
We recommend foodie visitors to try a range of food while here, from the local freshly made pizzas to the fine dining cuisines. One restaurant that we'd particularly recommend for your foodie bucket list is the Ti-bo Doudou in the Terre-de-Haut region, located right on the beach!
Ready to tick off your bucket list?

Let us help! We can fly you to your island of choice, and our team will be there for you all along the way ready to make sure you have the best experience.
When you're ready to book a private Caribbean flight, the first thing you should do is get a personalized quote for your trip. Additionally, you can contact our Caribbean travel experts at any time for a quick reply to any question or query you may have about either your trip, or the Caribbean in general.
In the meantime, if you're looking to learn more about how to fly smarter in the Caribbean, download your copy of our free guide today!
Image sources: Miami Eater, WSK, Bananas, Telegraph, Straw Hat, Gina, TLC, GuadeloupeFoodie