The Caribbean islands are a favourite vacation spot for celebrities. Easily reached by a private charter plane, the top Caribbean celebrity Spotting below have luxurious accommodation and world-class dining, surrounded by warm waters and spectacular beaches Celebrity Spotting.
The favourite celebrity islands of the Caribbean are scattered throughout the region, ranging from the famous and glamorous St. Barths to less well known and more private islands such as Mustique and Anguilla, for example. In today's article, we will cover our favourite islands for Caribbean celebrity spotting.
1. Caribbean Celebrities In St. Barths
One of the most family-friendly locations in the Caribbean, St. Barths attracts many celebrity families, including Martha Stewart's and Jessica Alba's, for example. With world-class shopping, and known for its style, sophistication, and exclusivity, St. Barths is the best place in the Caribbean to spot celebrities (and often times their families as well)!
Martha Stewart loves St. Barths and frequently mentions the island and her vacation home there in her interviews. She compliments the dining, shopping, and family-friendliness as making St. Barths her favourite exotic island.
Jessica Alba, husband Cash, and their kids love snorkelling, swimming, and playing on the pristine beaches of St. Barths, spending weeks there on their annual vacations. Most recently, after Chrissy Teigen and John Legend left the island, Rachel Zoe and her family joined in as well to keep Jessica and her family company.
The easiest and most convenient way to get to the small yet beautiful island of St. Barths is by one of our affordable private charter flights from Antigua that we are honoured to be operating regularly.
2. Celebrities In Mustique,Celebrity Spotting.

An unspoiled island paradise, the private island of Mustique offers the ultimate in luxury and privacy. Reaching the island requires a connecting charter flight from Barbados, thus making the small island relaxed and less crowded. Many ultra-famous celebrities are attracted by the seclusion and specialty service, ranging from rock legends to England's royal family.
Prince William and Kate, along with baby George, recently visited the island to celebrate Kate's mother's birthday. They have visited the island in the past as well for romantic getaways, as the island is well known for romance. William's aunt Princess Margaret owned a vacation home on the island and was formerly a frequent visitor as well.
The Rolling Stones love Mustique for its seclusion and lack of media presence. A welcome escape from the hustle and bustle of the big city, the band even recorded albums on the island. Moreover they aren't the only music mavens to escape the lime light for some major relaxation; Jay Z has also being known to vacation on the privacy-assured paradise.
3. Celebrities In Anguilla

The most up-and-coming destination, Anguilla is less well known when compared to many of our other celebrity hotspots, but is greatly growing in popularity as of late. Some are even calling it the "New St. Barths," due to its growth in popularity.
Popular with the likes of Liam Neeson, Ellen DeGeneres, Derek Jeter, 50 Cent, and frequent visitor Michael Jordan, the island is known and loved for its relative lack of box stores. Yet to become crowded, Anguilla retains a sense of charm and natural beauty that attracts celebrities from around the world.
With over 30 beaches, a world class golf course, and amazing dining, Anguilla has it all without losing its natural appeal. The luxurious Viceroy Anguilla is the most popular place to spot celebrities, though recently growing hotel and condo building Zemi may take over in the near future.
While luxury, beauty, and the up and coming edge of the island make it attractive to celebrities, Anguilla is also known for its excitement. One of the best places in the Caribbean to try watersports, celebrities can enjoy sports without being pestered by paparazzi.
Also a small Caribbean island without a big commercial airport, the most convenient and affordable way to get to the island quick, safe and in a fun way is by one of our charter flights to Anguilla.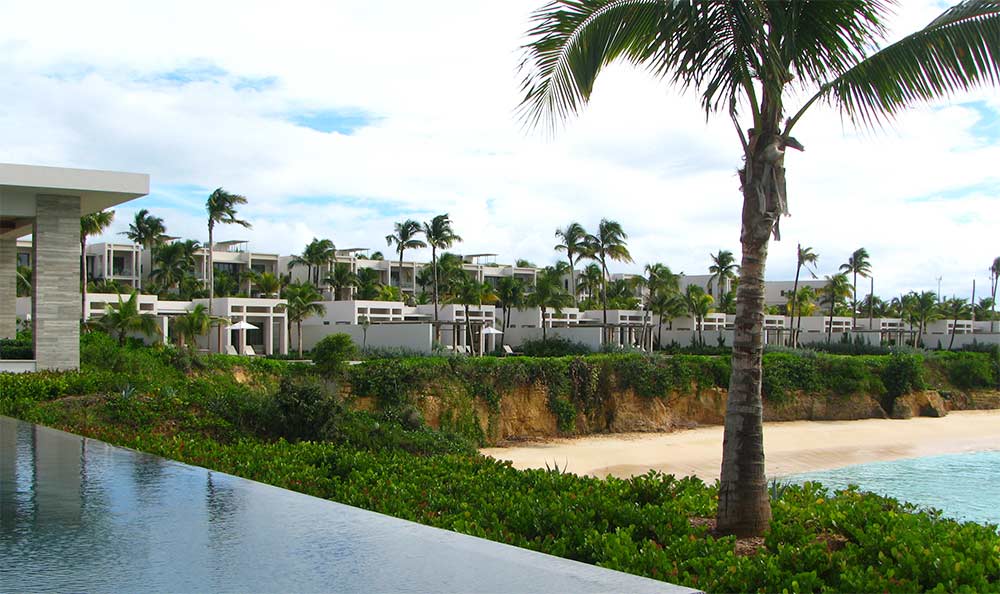 Caribbean Celebrity Spotting

The easiest and most hassle-free way to reach the islands in celebrity (yet affordable) fashion is in the same way the A-list actors do – by means of a private charter flight. For a quick yet complete guide on flying smart in the Caribbean, please download our free whitepaper here.
We regularly operate trips in the Caribbean, and you can get a quick personalized quote today for your individual trip. For any other questions or queries regarding your dream Caribbean vacation, please feel free to contact our experts – we always respond promptly, and are happy to help!
Image credits: Sun Destinations, CDC Lifestyle, Anguilla Beaches, K. UpdatesCelebrity Spotting