More and more tourists are starting to experience the benefits of private jet flights in the Best Caribbean Airports, especially as new technology drives prices down to make this luxurious service available to many.
Arriving by private jet is the ultimate in Caribbean luxury and convenience, as well as a sure-fire way to make your exotic island entrance in style.
And if last week we spoke about the best Caribbean private jet destinations, this week we discuss the hottest airports for private jets! Without further ado, here are the Caribbean airports that will attract the most private flights in 2016.
1. Luis Munoz Marin International Airport, San Juan (SJU)

In 2015, 8.73m passengers flew in and out of beautiful San Juan's SJU airport. This makes Luis Munoz by far the busiest airport in the Caribbean when it comes to passenger traffic.
It serves as one of the main gateways to the Caribbean, making it easy to reach smaller islands of interest such as St. Barths or Anguilla by charter flight.
2. Princess Juliana International Airport, St. Maarten (SXM)

Princess Juliana is the main airport of St. Maarten, also serving as a major Caribbean gateway. Many private jets that land here connect with other charter flights to reach the smaller Leeward Islands – most notably Anguilla and St. Barths.
In 2012, a total of 1.67m passengers flew in and out of SXM. One of the best and most modern Caribbean airports, it features 46 check-in counters and 12 gates to minimize delays. Free Wi-Fi is also available throughout.
3. Cyril E. King Airport, St. Thomas (STT)

Cyril E. King is the busiest airport in the US Virgin Islands (and one of the busiest in the Eastern Caribbean), having serviced 1.21m passengers between 2011 and 2012. It operates one runway and 11 gates.
STT is predominantly used by passengers to the British Virgin Islands (BVI), but to other smaller islands too (Nevis, for example).
4. V. C. Bird International Airport, Antigua (ANU)

Located 5 miles north-east of St. John (the capital of Antigua and Barbuda), V. C. Bird International is a new and modern world-class terminal that became operational in late August, 2015.
It boasts modern security screening facilities, passenger processing and monitoring facilities, as well as a CCTV monitoring system.
It also has 46 check-in counters, multiple VIP lounges (learn more about our VIP Airport Transfer here), retail stores, first class lounges, restaurants – and anything else a luxury traveller may need for an excellent trip.
In 2009 (before its re-opening), around 920k passengers flew in and out of V. C. Bird.
5. L. F. Wade International Airport, Bermuda (BDA)

Initially named the Bermuda International Airport, BDA is the only airport that serves Bermuda in the North Atlantic Ocean.
It features one passenger terminal, and its runway supports aircraft of many sizes – including most private jets. L. F. Wade served around 900k passengers during 2006.
6. Clayton J. Lloyd International Airport, Anguilla (AXA)

A small international airport, Anguilla's Clayton J. Lloyd made this list simply because if you're flying by private jet in the Caribbean, it's only a matter of time until you'll get on this beautiful island (and airport) by charter flight.
Anguilla is a small exotic island that attracts numerous luxury travellers to its world-renown beaches and breath-taking scenery.
The only airport on this island, AXA's runway is too short for jets themselves – but they make excellent connections with charter flights from nearby bigger islands such as Antigua or St. Maarten.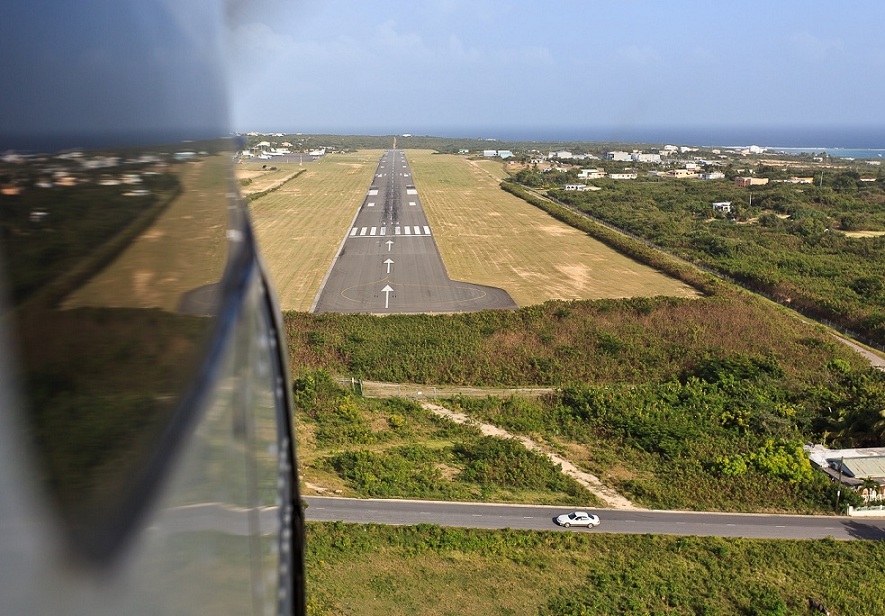 7. Grantley Adams International Airport, Barbados (BGI)

The international airport of Barbados, Grantley Adams is a major Caribbean gateway to the Eastern Caribbean – and the only port of entry for anyone flying in or out of Barbados.
It functions both as a direct service for destinations in the US, Canada, Central & South America, and Europe (with tourists private jetting to this island as their final destination), as well as making for easy island hopping by charter flight to smaller islands such as Mustique.
In 2015, this lead to 1.86m passengers flying in and out of Grantley Adams – making BGI the 9th busiest airport in the Caribbean.
Best Caribbean Airports – Flying Private Best Caribbean Airports

Looking to fly private to your Caribbean airport of choice? Let us help!
Caribbean Charter Flights operate private jet and charter flights to your favorite Caribbean destinations – making transport to any of the exotic islands a breeze with flights that are efficient and flexible.
When you're ready to book a private Caribbean flight, the first thing you should do is get a personalized quote for your trip. If you'd like more information or have any questions or queries, please feel free to contact our travel experts at any time for a prompt reply.
In the meantime, if you'd like to learn more about how to fly smarter in the Caribbean, download your free copy of our guide today!
Image sources: AIC, Travelling Greener, Skyscraper City, Airplane Pictures, Business BarbadosBest Caribbean Airports